Health Care Mobile Application Development Trends to Know In 2021
In today's digital era, with the growing number of people accessing the Internet via smartphones and tablets a mobile application development has the unique ability to access a large number of potential consumers. Rapidly evolving technological trends are giving way to the modernization of medical care. Consequently, Health Care Mobile Application Trends must support this modernization by adopting these current tools to deliver more robust and innovative products to their consumers.
IMPORTANCE OF DIGITAL HEALTHCARE
The year 2021 has started with the Covid-19 pandemic demanding a more accessible health care mobile application trends development to enable patients and doctors to communicate seamlessly and achieve better outcomes of the various health issues faced by people around the globe. Digital healthcare has consequently made an unfathomable growth making diverse solutions available to people at their convenience and effectively fulfilling health goals set by people to stay fit and defeat the virus.
Digital health is efficiently introducing novel approaches which according to research has demonstrated significant growth in the impact it is bringing on patients and their overall healthcare. Health care mobile application trends hold great promise with evidence of these digital health tools playing a positive role in both patient outcomes and the costs of care. A well-known health physician stated:
'We're seeing more innovation. Importantly we're seeing more evidence of the impact that digital health can have on outcomes as well as cost. We're seeing an increase in adoption of mobile health apps.'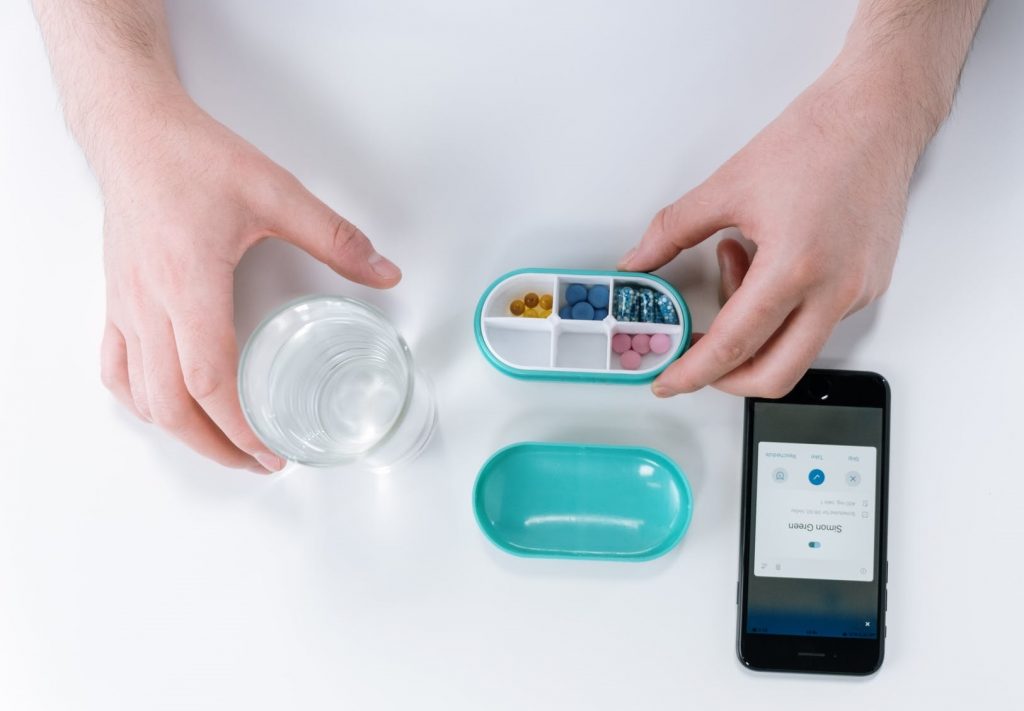 There are over 318,000 health applications made available in 2021- with more than 200 apps added each day. Some of the most widely used and reliable healthcare mobile applications trends are highlighted below.
TOP 10 HEALTHCARE APP DEVELOPMENT TRENDS 2021
PERSONAL HEALTHCARE APPS
These apps track the personal health status of the user. It records the daily steps, calorie intake, water intake, heartbeat, and the complete diet and activity status of the consumers. It then recommends a plan of action to stay fit by following a regular diet and living a healthy lifestyle. These apps are connected through a wearable gadget or device.
2. FITNESS SOLUTIONS
The evolution of these fitness apps brings healthcare solutions through exercise regimes. They include live and recorded sessions by expert fitness trainers. These apps also focus on mental fitness and offer meditation sessions too. Fitness apps have remained the number 1 healthcare application during this pandemic.
3. TELEMEDICINE
During Covid, it remained a popular choice for both patients and doctors enabling them to exchange information without any physical visit.
4. ARTIFICIAL INTELLIGENCE
Some of the best healthcare apps for patients and doctors incorporate Artificial Intelligence to generate valuable insights from a patient's health data. Furthermore, they help in diagnosing terminal diseases at an early age and connect healthcare facilities through intelligent chatbots for answering various patient queries.
5. REMOTE HEALTH MONITORING
These healthcare solutions focus on monitoring the health of patients through on-demand mobile apps. Patients who require regular tracking of their health as a part of their treatment plan are effectively assisted through these remote apps.
6. ELECTRONIC HEALTH RECORDS (EHR)
EHRs have been the digital health priority since their inception. These are the systematized collection of patient and population electronically stored health information in a digital format that can be shared across different healthcare settings.
7. BLOCKCHAIN
It is a digital log that can govern and records information in chains of blocks. Each block contains information about the previous ones making it impossible to change, hack or modify the data within the system. Blockchain-powered solutions are being introduced into healthcare systems in a quest to transform healthcare delivery, enforce global patient centricity, and increase the security and privacy of health-related data and are therefore now breaking grounds in the mobile healthcare industry.
8. CONTACT TRACING
It is a recent trend that is very efficiently helping to trace and track people who get infected from covid. It is further assisting governments by digitally monitoring their health which very significantly reduces the covid cases.
9. PRODUCTIVITY APPS
They are an essential part of the mental health and wellness regime. Healthcare app development languages like Python and Ruby help building these productivity apps. These healthcare solutions focus on improving focus, monitoring tasks, and enhance productivity and output. When employees feel more productive, their overall well-being ultimately improves.
10. CLINICAL SOLUTIONS
Healthcare facilities and clinics often use these clinical solutions through which patients can schedule appointments, get answers to common queries, pay their bills online, and could connect with the medical staff in case of any emergencies.
CONCLUSION
Due to the constant evolution of technology, the healthcare app industry is transforming and innovating with each passing year. Consequently, healthcare mobile application trends are gaining ground on turning healthcare into a necessity for the healthcare ecosystem's functioning. These trends set the pace for innovation needs and requirements in mobile healthcare and help establish new ways to better cope up with the changing demands within the system.
All these healthcare app development trends listed in the article have already become a significant part of the mobile healthcare ecosystem. With a drastic rise in the covid cases, these apps have become an essential part of all the victims.