Negative Impacts of Excessive Marketing on A Brand
Marketing is one of those crucial elements that need to be considered with great focus when running a business. Product/Service marketing is the make-or-break point of the business. Without a proper marketing strategy, a brand cannot survive in the market. However, sometimes brands go overboard with their advertising, which creates a series of problems.
What Is Marketing?
Marketing is defined as an action that connects customers and the public to the market through a flux of information. These marketing activities endorse buying and selling of the product/service. The activities that brand usually implement include advertising the products, selling them, delivering them to the consumers, and providing after-sale services to the customer.
After designing a product, the business demeanor should switch to marketing the product to the targeted market. This is where a good marketing strategy comes into play. A good marketing strategy conveys' information about the product to the targeted consumers on why this product is essential for them and how it will satisfy their needs. This information can be sent by using a variety of different mediums.
Why Is Marketing Important for A Business?
Marketing is an important tool that provides customers with information about the product and the brand. Ensuring that customers remain well informed and updated about the brand and its products, will increase companies' sales and customer loyalty. Some significant reasons that define the importance of marketing include:
Marketing strategies increase customer engagement, by entertaining its customers beyond store hours and establishing a good rapport with them. Good marketing strategy helps the business gain customers' trust and delivers what is being promised to them at the right time.
It creates revenue options for the company, a good marketing campaign can boost the revenue input of the company by boosting its sales. These strategies include running media advertisements and promotions to increase brand awareness.
Marketing increases companies' sales; good marketing strategies are aimed at informing customers about the product and its benefits to the customers. Additionally, it helps to attract new customers and retains existing ones.
Marketing activities are designed to create the brand equity of the company. A positive brand image aids in meeting its customer's expectations and helps a brand in being considered a responsible member of society
Negative Effects of Excessive Marketing
Do you know what are the Excessive Marketing Negative Impact? Marketing is an essential part of every business operation, however, excess of everything can create problems. Downfalls a business can experience due to excessive advertising are as explained below: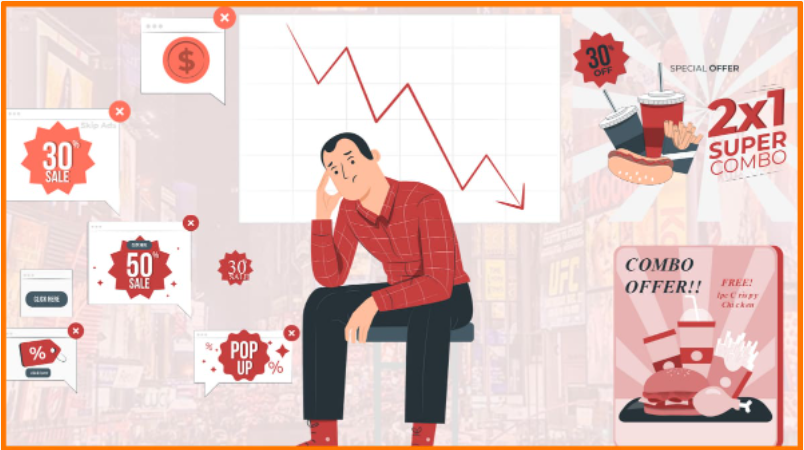 Create Deceptive and Unrealistic Expectations
In advertisements, the marketers make use of filters to make their products look appealing. The marketers may exaggerate product features in their advertisement, which can deceive the marketed audience and create unrealistic expectations for them. These unrealistic advertisements can often lead customers into buying products that they cannot buy and create dissatisfaction among its customers.
2. Advertising Adds to the Cost of a Product
A good marketing strategy creates demand for the product and increases product sales. However, when advertisements are poorly marketed, they act as an added expense. The increased expense of advertisements increases the product's price. Hence, it is important to make sure that the brand correctly and efficiently promotes the product to the target market.
3. Deteriorates Brand Image
Advertising dishonest, misleading, and baseless content to viewers for advertising its products or services is a form of bad advertising that can deteriorate the brand's reputation. Continuous bad advertisements can create biases against the brand in consumers' minds. Hence, brands should do honest advertising that would create customer satisfaction and loyalty. 
4. Encourages Stereotypes
Marketers promote gender stereotypes in their advertisements to capture their audiences' attention. This is stopping society from moving on from past practices. A person that is heavily exposed to these advertisements for a long period of time, starts to consider these stereotypes as norms. If a person dares to go against these norms, they are criticized for their thinking by the society they live in.  
5. Affects Children
A child's mind is sensitive to the stimulants shown in the advertisement. As they grow up, these advertisements start to dictate their decisions. They define themselves through the use of materialistic things. Hence, multiple laws have been passed against creating advertisements that are targeted at children.
Final Thoughts
Marketing serves a variety of benefits to a business by boosting its reputation and increasing its sales. However, a business should moderate its level of advertising to protect itself against its negative impacts.